CLICK HERE TO MAKE AN APPOINTMENT TO SEE THIS FINE HOME
1,251 square feet

2 bedrooms

2 full baths

The oak hardwood floors are beautiful – recently refinished
The gas fireplace in the living room features a heatilator system- cozy!!
A spacious kitchen & fresh paint overlooking your fenced backyard & large private deck
Access the deck from the family room, which can double as a mudroom,
2-car garage w

ith electric wall heater, fan operated air vent & central floor drain
Welcome to this great home in the Arcadia neighborhood. This low maintenance ranch. The 1251 sq ft offers 2 main floor bdrms and a large cozy living room with wood burning fireplace with a heatilator.  Bedrooms are large enough (12×13) for a king size bed and lots of clothes in the closets. The oak hardwood floors are in beautiful.  A spacious kitchen w/ great eating area & fresh paint overlook your fenced backyard & large private deck. .

Click here for additional information, pictures and up to date pricing information.
The house at 1130 Eldridge Drive, Kalamazoo, MI is in Kalamazoo and is convenient to all parts of the city. The  Arcadia neighborhood is wonderfully close to WMU, so you can enjoy lots of campus activities.   The house on Eldridge is close to parks, shopping, Costco, banking, Miller Auditorium, Lawson Ice Arena and some wonderful lakes and golfing.   You will also find that there are many other golf courses within a few minutes drive too.   If you enjoy boating and fishing, you will notice that 1130 Eldridge Drive is also just a short ride to many Kalamazoo lakes where you can enjoy boating, fishing, skiing, jet skiing and just plain relaxing!
CLICK HERE TO MAKE AN APPOINTMENT TO SEE THIS HOUSE
---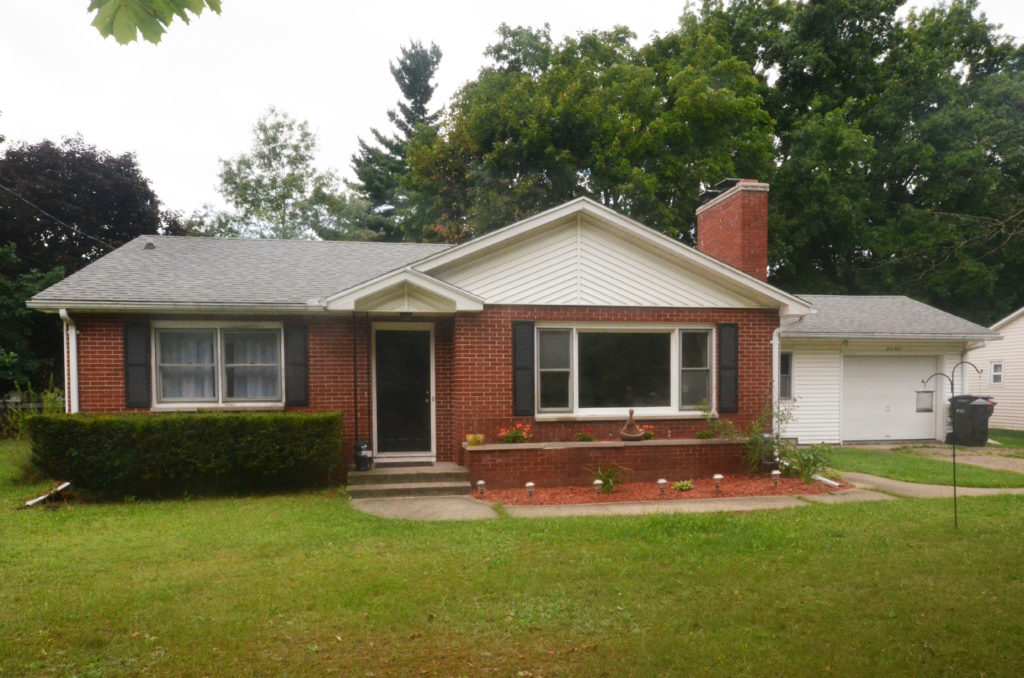 SCHOOL INFO FOR ELDRIDGE DRIVE
---
 Kalamazoo Promise
The Kalamazoo Promise is a wonderful opportunity given to the children who attend Kalamazoo Public Schools.  If a child lives at 1130 Eldridge Drive and attends school from kindergarten through high school at the Kalamazoo Public Schools, the children qualify for a FREE college education at any public university in the state of MI and at approximately 14 private colleges as well, including Calvin College, Kalamazoo College,  Hope College and others.  It is an amazing gift of generosity given to the children of Kalamazoo by a group of un-named benefactors. It really has been kept a secret in the Kalamazoo Community. As you can well imagine, the program is such a unique and innovative program that many people and organizations are interested in its impact on the Kalamazoo Public Schools, the Kalamazoo community, the students, their families, and a vast number of other items.  There is always ongoing research going on to look at the impact of the promise.  That is also one of the reasons Kalamazoo is uniquely positioned to take advantage of the Promise.  There is an amazing research and community service institute that was established by the Upjohn company many years ago, called the W. E. Upjohn Institute for Employment Research.  When you combine that first class institute and the collective resources of  Western Michigan University, which is also located in Kalamazoo, as well as the dedication of the entire Kalamazoo community, you have a winning combination.  Things like this are what makes Kalamazoo MI such a great place to live and purchase a home.
---
We have created a special link to ALL the Kalamazoo Promise Homes for Sale.
(That means all homes in the Kalamazoo Public Schools)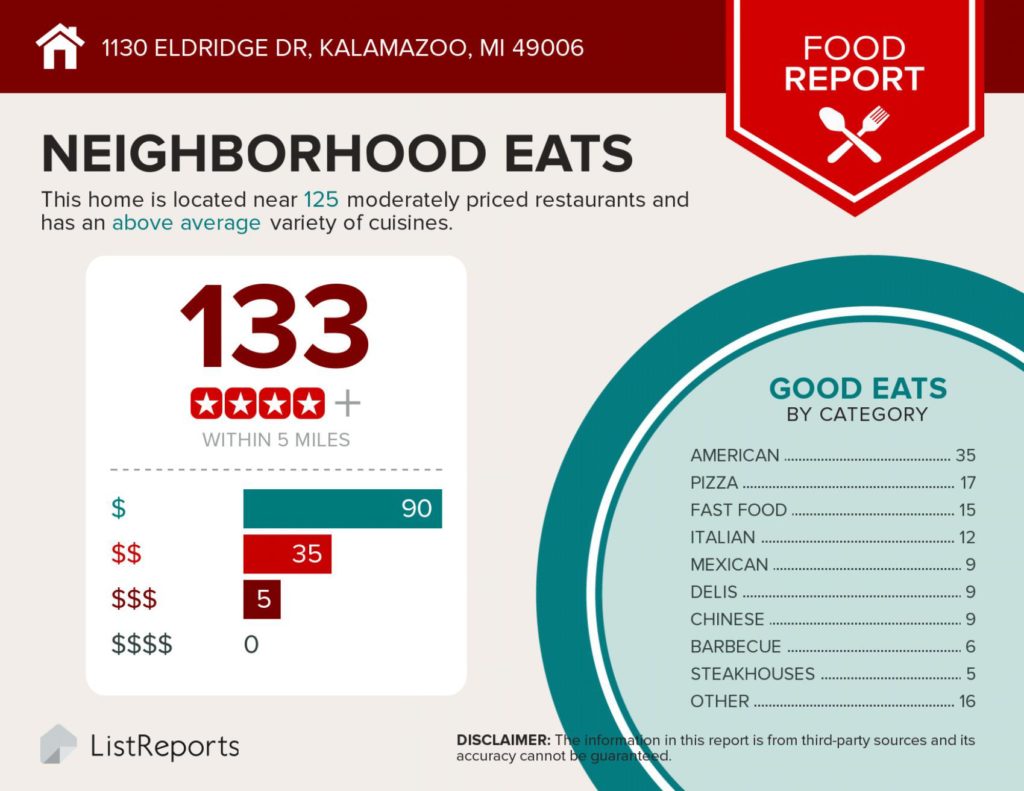 ---
THIS WOULD BE A GREAT HOUSE FOR WMU MEDICAL STUDENTS and RESIDENTS or WMU STUDENTS OR GRADUATE STUDENTS
There are many medical students who just matched to Bronson or Borgess hospitals in Kalamazoo for their residencies.  There are also many WMU medical students who will be coming to Kalamazoo to complete their medical school education.  We as a community look forward to the Medical Students and Residents who will make Kalamazoo home.  The Veenstra Team has helped lots of new residents settle into houses that they purchased in Kalamazoo.  Last year we helped Orthopedic Residents, ER Residents and Pediatric Residents purchase housing near the hospitals and WMU in Kalamazoo.  The house at 1130 Eldridge is a great house for residents and medical students to consider purchasing.  Two residents last year purchased a house and then got a room mate who was also moving to Kalamazoo to share the house and help pay the mortgage.  A few of the people we helped purchased their first homes as newlyweds. It is actually much easier and inexpensive to purchase a home to live in than it is to rent a home.  The rental market in Kalamazoo is tight. There are not many homes available for rent.  There are some apartment complexes, but most of the residents and students we talked to were ready to settle into their own home instead of continuing to live in rented apartments or houses.
The house at 1130 Eldridge is a great option for several reasons.  The house is nice and close to WMU and the hospitals.  There are 2 bedrooms, 2 bath and has a great space for studying and relaxing.  The price point is great for first time home buyers or parents who are purchasing a home for their medical student or resident children.
The Veenstra Team will provide a free private home search website for any WMU Medical Students or hospital Residents moving to Kalamazoo. We will guide you through the home purchase process in an easy to follow step by step manner.  There is NO FEE for the Veenstra Team to represent you as your Buyer Agent.  When we do represent you, you will be able to benefit from our team approach, our very successful negotiating experience, our vast knowledge of the market, our highly systemized and effective home closing process and lots more.
Should you rent a one bedroom apartment or purchase this 2 bedroom, 2 bath home?
A friend of our just rented a 1 bedroom apartment on East Main this week for $600 a month.  This house on Eldridge can have monthly mortgage payments which are less than that.  Of course that monthly fee does not include taxes and insurance, but think of purchasing this house and renting 1 bedroom to your friend.  You should be able to cover your entire mortgage payment!  Now, that seems like a good idea! Give us a call and we can connect you to a lender who can give you all the specifics so you get the exact quote of what is needed to purchase 1130 Eldridge.  There is no fee to speak to a lender.  Information is power!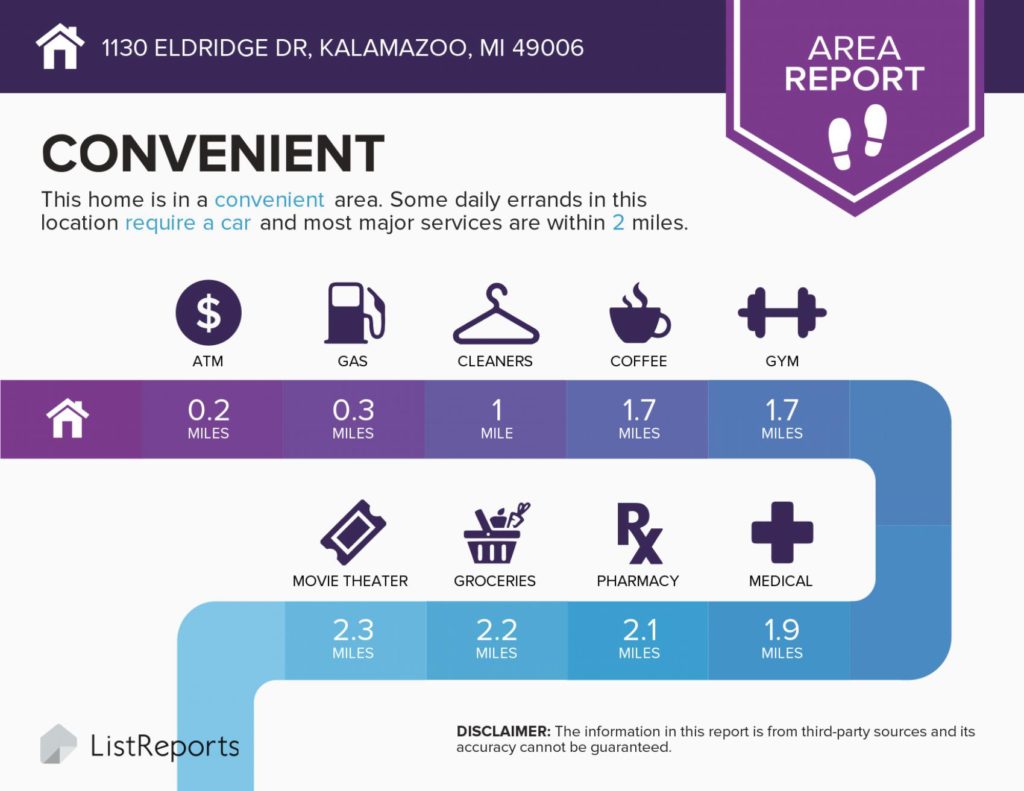 ---
---
The greater Kalamazoo is a great place to find lots of things to do outdoors or to enjoy inside.  The downtown has some great shops, restaurants and businesses. There are many lakes around the City of Kalamazoo and you will be just a short ride away from Lake MI and the wonderful city of South Haven.  Here is a short list of just a few of the fun opportunities near the address for sale 1130 Eldridge Drive, Kalamazoo, MI..  You will find many more fun places to explore once you buy this great in the woods.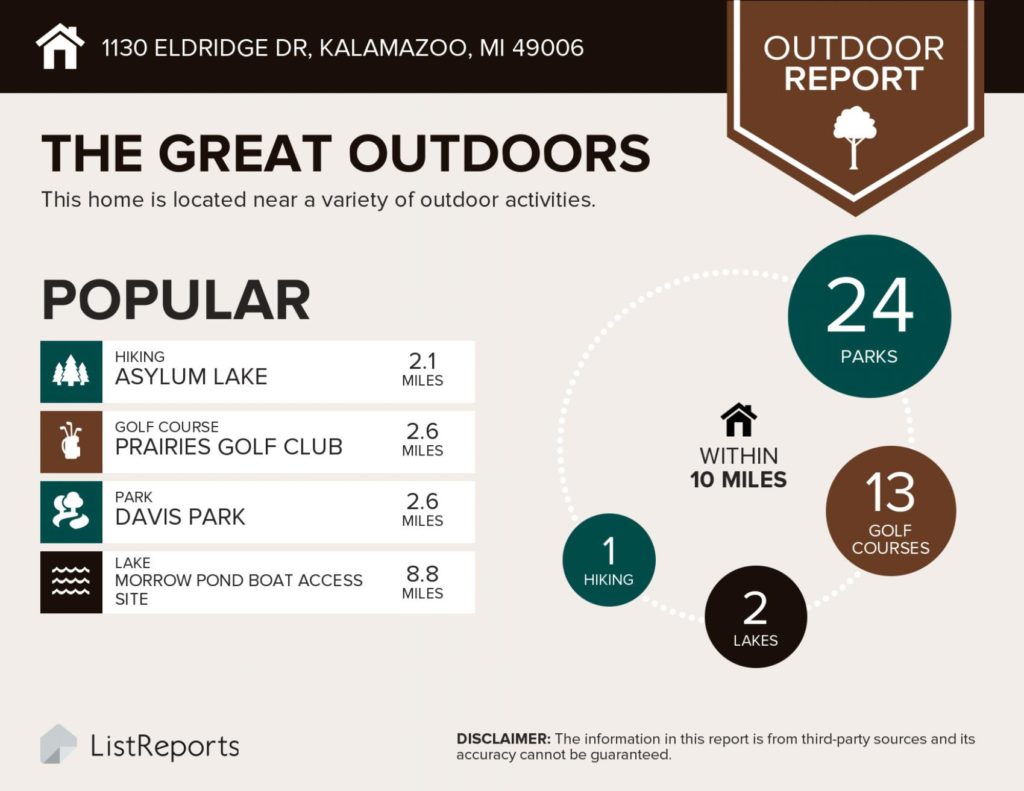 ---
 That means you get the opportunity to see the property before most home buyers.
The Veenstra Team makes sure that you have the very best technology and has created custom searches that will allow you to search for homes by any local greater Kalamazoo .  Check them out below AND be sure to sign up for our FIRST TO KNOW SERVICE so you don't miss out on the best opportunities.  We alert you when new homes come on the market at the SAME TIME AS REALTORS learn about them.
---
BE THE FIRST TO KNOW!!  You can also get new listings delivered to you by email as soon as they come on the market.  It is a totally free service…..just like all our other home buyer services.